123-C All Seasons Place - 1st floor, 87/208 Wireless Road, Lumpini, Bangkok-10330, Kingdom of Thailand 02-252-1230 • E-mail: sec@p-g-a.org

---


PGA RESOLUTION: Rule for New Members
Dated: April 27, 2005. It has been unanimously decided by the PGA ruling committee that effective immediately, all new member applicants must take the PGA test, and pass, to be accepted as members. Successful applicants will then also be awarded the PGA diploma, as well as PGA membership certificate.

JOIN NOW: If you want to join the PGA - take the PGA's 63 Question test and earn the "PGA" Diploma then print out all of this page, check the answers, and post the completed test, along with the processing fee of US$39.00 which can be paid by clicking HERE to pay on-line.

OTHER PAYMENT METHODS:
*International Bank Draft payable to "Hrisikesh Ltd."
*Western Union (on request)
*PayPal (on request)

Note: (NO CHECKS WILL BE ACCEPTED)

Write to Planetary Gemologists Association, All Seasons Place - Retail Center, 1st floor, 123-C All Season Place, 87/208 Wireless Road, Lumpini, Bangkok-10330, Kingdom of Thailand 02-252-1230 / 252-1231 • E-mail: sec@p-g-a.org Please send payment with completed test (below)
---
The PGA (Planetary Gemologists Association), named in Sanskrit as the "Graha-anukul ratna-visheshajna parishad," is also an Internet based Institute of Planetary Gemology, i.e., the Vedic "Nava ratna" or 9 GEMS system of metaphysical birthstones. Planetary Gemology is a combination of four (4) Vedic Sciences, viz., gemology, astrology, ayurveda, and jewelry or talisman making.

The PGA has a 63 question test for certification as a "PGA" or Planetary Gem Advisor. This test is found below. The PGA test is open book with no time limit so the scoring is strict (8 mistakes is failure to pass). Most answers can be found on the PGA's WWW site at PGA Courses and successful applicants will receive the "PGA" (Planetary Gem Advisor) Diploma as well as their PGA Membership Certificate. A successful PGA who is also a 'certified' GEMOLOGIST will be awarded the rare "PG" or PLANETARY GEMOLOGIST Degree. Click HERE for the current official list of PGA Graduates.

Located globally, 24 hours a day, 7 days a week, NON-STOP, the PGA is the World Authority on Planetary Gemology; and the PGA & PG Diplomas serve as a guarantee of excellence to the innocent public.
---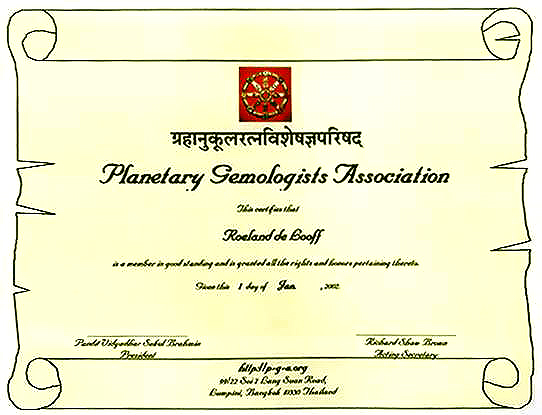 ---

Note: There is a US$ 39. processing fee to take the PGA test (No refund regardless if you pass or fail the test)
GRADING: This is an open book test with no time limit; therefore the scoring is very strict, i.e., A=no mistakes, B=two mistakes, C=four mistakes, D=six mistakes, F=eight mistakes is failure to pass.
---
JOIN NOW: If you want to join the PGA - take the PGA's 63 Question test and earn the "PGA" Diploma then PAY ON LINE, or print out all of this page, check the answers, and post the completed test, along with the processing fee of US$39.00 which can be paid by International Bank Draft or Money Order payable to "Hrisikesh Ltd" send to Planetary Gemologists Association, All Seasons Place - Retail Center, 1st floor, 123-C All Season Place, 87/208 Wireless Road, Lumpini, Bangkok-10330, Kingdom of Thailand 02-252-1230 / 252-1231 • E-mail: sec@p-g-a.org. Please send payment with completed test (below)
JOIN NOW!!!
Yes, I wish to become a member of the Planetary Gemologists Association. I understand that there is no membership dues, but I am required to pass the PGA Test in order to become a PGA Member. To take the PGA test there is a US$39 test processing fee. I understand that I am under NO obligation to remain a member of the PGA

---
First Name:

---
Last Name:

---
Postal Address:


---
Phone:

---
Fax:

---
E-mail:

---
URL:

---
Age:

---
Occupation:

---
Are you a Vedic astrologer? YES / NO

---
Do you recommend gems to people based on Jyotish? YES / NO

---
Gem Choosing philosophy: ANUKUL-VAD, i.e., Gems act SAME as their Graha (Gems should be used for Anukul-grahas), or PRATIKUL-VAD, i.e., Gems act OPPOSITE of their Graha (Gems should be used for Pratikul-grahas) (please circle or underline one only)

---
1) Use of synthetic (man-made) gems in Planetary Gemology: YES or NO
---
2) Use of Uparatna (natural semi-precious gems) in Planetary Gemology: YES or NO
---
3) Use of very flawed gems in Planetary Gemology: YES or NO
---
Also, in your practice, what is your service:


CHOOSE ONE ONLY:
1) I only choose gems (I don't supply)
2) I only supply gems (I don't choose)
3) I supply gems & jewelry (I don't choose)
4) I both choose gems and supply loose gems
5) I both choose gems and supply gems loose or in jewelry
6) I both choose gems and supply gems loose or in panch dhatu kavacha
---
Personal Reference (at least one reference name & contact information):

---
Please explain your involvement with Planetary Gemology:

---
Signature: Date
---
PLEASE: Attach your current photograph... THANK YOU!
---
Print out, sign and return this completed form and test by post, fax or e-mail addressed to...Att: Acting Secretary, Planetary Gemologists Association, All Seasons Place - Retail Center, 1st floor, 123-C All Season Place, 87/208 Wireless Road, Lumpini, Bangkok-10330, Kingdom of Thailand 02-252-1230 / 252-1231 • E-mail: sec@p-g-a.org

---
PLEASE CHECK OR CIRCLE THE CORRECT ANSWER FOR EACH QUESTION
---
Q1: In Vedic Gemology a real Salagram Shila is ruled by
1. Brahma
2. Indra
3. Vishnu
4. Shankara

---
Q2: In mundane gemology Quartz gems are which crystal system
1. Cubic
2. Hexagonal
3. Tetragonal
4. Triclinic

---
Q3: In Vedic culture a Rudraksha is ruled by
1. Brahma
2. Indra
3. Vishnu
4. Shankara

---
Q4: In Vedic astrology the 4th House represents
1. Spouse, Contracts, Overall dealings with "others"
2. Happiness, Home, Mother
3. Intelligence/Creativity, Children, Amusements
4. Rise in life/career, success, fame

---

Q5: Ruby is a form of

1. beryl
2. apatite
3. corundum
4. garnet

---

Q6: In Vedic astrology a person's BIRTH SIGN is based on the position of

1. Venus
2. Sun
3. Moon
4. Jupiter

---

Q7: Blue sapphire is a form of

1. beryl
2. apatite
3. corundum
4. garnet

---

Q8: Which gem is NOT used for Surya (the Sun)

1. red garnet
2. sun stone
3. rubellite
4. red spinel

---

Q9: Emerald is a form of

1. beryl
2. apatite
3. corundum
4. garnet

---

Q10: In Vedic astrology a person's BIRTH STAR is

1. Sun Sign
2. Rising Sign
3. Moon Sign
4. Moon Constellation

---

Q11: Hessonite is an orange color of

1. beryl
2. apatite
3. corundum
4. garnet

---

Q12: Tsavorite is a green color of

1. beryl
2. apatite
3. corundum
4. garnet

---

Q13: A gem ruled by Jupiter is

1. Brown Zircon
2. Catís eye
3. Red coral
4. Golden Topaz

---

Q14: "Pratikula-vad" means

1. A gem will act SAME as it's ruling planet (A gem is chosen to harness the positive qualities of the benefic planet it is associated with.)
2. A gem will act OPPOSITE of it's ruling planet (A gem is chosen to neutralize the ill effects of the malefic planet it is associated with.)

---

Q15: Cancer is ruled by

1. Mars
2. Mercury
3. Ketu
4. Moon

---

Q16: "In Sanskrit, "Sapta-ratna" means

1. 7 gems
2. 3 gems
3. 12 gems
4. 5 gems

---

Q17: In literal Sanskrit, "Jyotish" means

1. Science of Time
2. Light of God
3. Science of Space
4. Mastery of Logic

---

Q18: Sidereal means

1. Astrology
2. Of the stars
3. From the North
4. From the South

---

Q19: The most popular ayanamsa used in Vedic astrology is

1. Lahiri
2. Tropical
3. BV Raman
4. Yukteshwar

---

Q20: If a person has unknown birth time then their lagna should be___________in relation to choosing gems

1. Used
2. Doubled
3. Disregarded
4. Guessed

---

Q21: Ketu is

1. Uranus
2. South Node of the Moon
3. North Node of the Moon
4. Neptune

---

Q22: Vedic astrology follows which system of beginning a day

1. 12:00 NOON
2. 12:00 MIDNIGHT
3. SUNRISE
4. None of the above

---

Q23: If a person has Moon in Pisces in the Rasi chart then the planet to consider STRENGTHENING WITH A GEMSTONE is

1. Mercury
2. Jupiter
3. Ketu
4. Neptune

---

Q24: A NATURAL pearl is said to be which "cosmic color?"

1. red
2. orange
3. infra red
4. ultra violet

---

Q25: Shukla paksha means

1. dayís end
2. day's start
3. good period
4. waxing moon

---

Q26: What is said to be the cosmic color of Sun?

1. yellow
2. red
3. orange
4. infra red

---

Q27: Anukula-vad means that a gem will act the same as it's planet (so gems should only be used for "anukul" or beneficial planets)

1. True
2. False

---

Q28: What is the secondary gem for Surya

1. Red spinel
2. Red coral
3. Bloodstone
4. Sunstone

---

Q29: If a person has Moon in Cancer that means

1. exalted
2. own sign
3. harmful
4. debilitated

---

Q30: According to the "Anukul" system (i.e., a gem acts same as its graha) if a person has a harmful Mars in their horoscope then they should avoid wearing a red coral

1. True
2. False

---

Q31: According to both ANUKUL (a gem acts same as its graha) & PRATIKUL (a gem acts opposite of its graha) systems if a person has a harmful Mars in their horoscope they can help to mitigate the problem by

1. donating a red coral to a celibate on Tuesday at noon
2. donating a red coral to a poor lady on Tuesday at midnight
3. donating a red coral to a leper on Tuesday evening
4. donating a red coral to a king on Tuesday during the waxing moon

---

Q32: For a person born April 26, 1947 their Planetary Fadic number (cosmic number) and lucky gem is

1. # 4 Hessonite
2. # 6 Diamond
3. # 2 Natural Pearl
4. # 8 Blue Sapphire

---

Q33: The 8th house rules

1. occult (e.g., Astrology)
2. holes in the ground
3. death
4. all of the above

---

Q34: Colorless quartz crystal is ruled by

1. Moon
2. Mercury
3. Venus
4. Sun

---

Q35: The 9th house rules

1. Family
2. Gains
3. Fame
4. Religion

---

Q36: Diamond is what crystal structure?

1. cubic
2. hexagonal
3. tetragonal
4. triclinic

---

Q37: There are HOW MANY crystal systems?

1. twelve
2. fourteen
3. six
4. nine

---

Q38: Red Carnelian is said to be another gem for

1. Mars
2. Sun
3. Gemini
4. Mercury

---

Q39: In Sanskrit (Vedic astrology) "antardasha" means

1. major planetary period
2. sub-sub planetary period
3. minor planetary period
4. none of the above

---

Q40: Natural Pearl must be

1. formed by nature (has a natural shape, no pre-shaped implant)
2. all nacre
3. x-ray certified
4. all of the above

---

Q41: Natural red spinel can best be distinguished from synthetic spinel by testing

1. Refractive Index
2. Optic character
3. Specific Gravity
4. none of the above

---

Q42: Peridot is said to be an uparatna for

1. Mars
2. Jupiter
3. Ketu
4. Mercury

---

Q43: If a person has Gemini rising (lagna) then the rising sign lord is

1. Mars
2. Sun
3. Gemini
4. Mercury

---

Q44: According to both Anukul & Pratikul systems if a person needs to placate Shani (Saturn) they may

1. Donate a blue sapphire to a leper on Saturday
2. Donate a blue sapphire to a poor young man on Saturday
3. Donate a black goat on Saturday
4. Donate a black horse on Saturday

---

Q45: In practice of Jyotish the 6th house is

1. Benefic
2. Malefic

---

Q46: The 12th house rules

1. loss
2. gain
3. fame
4. love

---

Q47: The DAY to begin using a hessonite is

1. Thursday
2. Saturday
3. Monday
4. None of the above

---

Q48: If a person has Scorpio in the 11th then the 11th house lord would be

1. Mars
2. Sun
3. Gemini
4. Mercury

---

Q49: In choosing gems when the birth time is known the first thing to check is the

1. Moon sign
2. Rising sign
3. Sun sign
4. Mahadasha (major planetary period)

---

Q50: Which Mercury gem is the hardest

1. Emerald
2. Tsavorite
3. Green Tourmaline
4. Peridot

---

Q51: By "Anukul" system a gem should NOT be worn for a planet which is

1. Harmful
2. Weak
3. Both of the above

---

Q52: According to the "Pratikul" system if a person has a malefic Saturn in their horoscope they should

1. Wear a blue sapphire
2. Avoid a blue sapphire

---

Q53: Which gem/planet should usually be strengthened to increase a person's gains?

1. Lagna lord
2. 9th house lord
3. 10th house lord
4. 11th house lord
---

Q54: In a Nava-ratna setting Jupiter (yellow sapphire) is located at

1. East
2. West
3. North
4. South

---

Q55: By "Pratikul" system belief (gems act OPPOSITE of their graha) if Mercury is harmful (pratikul) in the horoscope then wearing an emerald will

1. Strengthen Mercury and make it better
2. Strengthen Mercury and make it worse
3. Weaken Mercury and make it better
4. Weaken Mercury and make it worse

---

Q56: In a Nava-ratna setting Venus (diamond) is located at

1. North
2. East
3. South
4. West

---

Q57: The herbal ASH (bhasma) for Sun is

1. Red lotus (padma)
2. Milk weed (Arka)
3. none of these
4. both of these

---

Q58: According to Anukul system (gems act SAME as their graha) if a Planetary Gemology Service Provider recommends a gem for a malefic or pratikul planet then they are

1. Harming the client
2. Helping the client

---

Q59: Which statement is NOT true?

1. Moon is said to be orange cosmic color
2. Jupiter is Guru of the Asuras
3. Indigo is said to be the cosmic color of diamonds
4. Kusa Grass is the cosmic ayurvedic herb for Ketu

---

Q60: A synthetic gemstone is:

1. Optically the same as a natural gem
2. Separated from a natural under extremely high magnification by an expert studying the inclusions within the stone
3. Made in a laboratory and may be of one of at least 3 types of growth processes
4. All of the above
5. None of the above

---

Q61: If a sapphire or ruby is heat-treated it:

1. Is easily seen to be treated by the color
2. Becomes useless for jyotish prescription as the modern heat treatment process is "scientifically proven" to render the gem inert
3. Can always easily be detected by holding the stone in a clear glass of water with a tweezers and seeing if the color is uneven
4. Changes its molecular structure to a different crystal system
5. None of the above

---

Q62: Which house lords are the first to consider strengthening for overall protection, good health, as well as both material and spiritual good fortune?

1. Lords of the 4th and 10th houses
2. Lords of the 2nd and 5th houses
3. Lords of the 1st and 9th houses
4. None of the above

---

Q63: Write an English definition of Planetary Gemology (graha-anukul ratna-visheshajna) in one sentence:



---
NOTE: This is an open book test with no time limit so all correct answers can be looked up.

SCORING:
A - 100% correct
B - 2 mistakes
C - 4 mistakes
D - 6 mistakes
F - 8 mistakes
---
---
The Sanskrit name for the PGA was composed by HONORARY PATRON Prof. Dr. Satya Vrat Shastri, Padma Sri