http://p-g-a.org
---

Patrons & Members
---
PGA Codes of Professional Ethics & OFF-LIST
---
PGA & PG Graduates
---
PGA Articles
---
PGA News
---
PGA Complaints
---
The 9 Gems
---
Planets & Gems
---
Jyotish Gem Powers
---
Gemstone Conflicts
---
The Planetary Herbs
---
Natural Jyotish Pearls
---
Jyotish Gem Clarity
---
Sidereal Astrology
---
Anukul/Pratikul
---
Mani & Mantra
---
The PGs Dictionary
---
PG Reference Material
---
Book Reviews
---
The PG Diploma
---
PGA Course Info Links
---
PGA Cyber Books
---
(C) 1999 by Planetary Gemologists Association
All rights reserved



123-C All Season Place, 87/208 Wireless Road, Lumpini, Bangkok-10330, Kingdom of Thailand 02-252-1230 • E-mail: sec@p-g-a.org
---
NOTE: Jyotish gem talisman dealers, designers and creators please submit JPEG photographs of any exceptional pieces which you have designed or created. Please contact the Acting Secretary to submit your pictures, captions, prices and purchase info. The PGA does not endorse any of the products listed for sale. Any complaints against any PGA members may be submitted to Acting Secretary.
---

---
FEATURED TALISMAN
---
Flawless Navaratna "herbal tubes" Ring
THIS IS SOLD (ORDER ANOTHER!)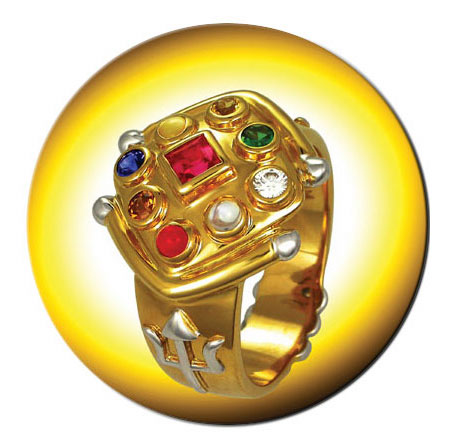 Nine precious gems set in hand-crafted 21k (90%) yellow gold 'herbal tubes' ring (SOLD,
write for a quote to order your own from Astral Gemstone Talismans
)
---
This position is available weekly. Click HERE to book your item.
---