http://p-g-a.org
---

Patrons & Members
---
PGA Codes of Ethics
---
PGA & PG Graduates
---
PGA Articles
---
PGA News
---
PGA Complaints
---
The 9 Gems
---
Planets & Gems
---
Jyotish Gem Powers
---
Gemstone Conflicts
---
The Planetary Herbs
---
Natural Jyotish Pearls
---
Jyotish Gem Clarity
---
Sidereal Astrology
---
Anukul/Pratikul
---
Mani & Mantra
---
The PGs Dictionary
---
PG Reference Material
---
Book Reviews
---
The PG Diploma
---
PGA Course Info Links
---
PGA Cyber Books
---
(C) 1999 by Planetary Gemologists Association
All rights reserved



123-C All Season Place, 87/208 Wireless Road, Lumpini, Bangkok-10330, Kingdom of Thailand 02-252-1230 • E-mail: sec@p-g-a.org
---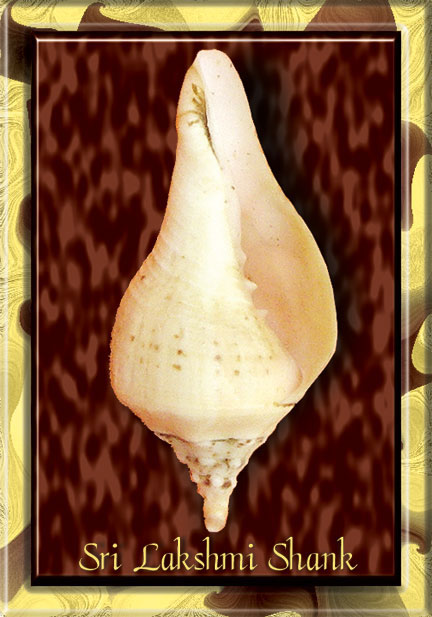 Valampuri Differences
Chandrashekhar Phadke
---
There are many other names for Valampuri in different Indian languages. This conch is also known as 'Lakshmi Shank', 'Mahalakshmi Shank', 'Vishnu Shank', 'Jamuna Shank' etc. I know very few names. There are 18 recognised Indian languages, this list may further be increased if we count spoken languages. It is therefore important to collect information on other synonymous words to Valampuri and Idampuri.

Scientifically, there are many different types and varities in marine and fresh water shells. It is said that only 30% of marine animals have been explored and identified so far. This means still 70% marine fauna is unexplored. I am trying to collect information on different species under the genus Turbinella other than the species Turbinella pyrum L. Under the species Turbinella pyrum there are at least five different varieties and further, many more morphological types.

In case of shells, distribution of a particular species, colour variation and design is mainly associated with ecological and geographical factors. Shell habitat, depth at which shell has its natural habitat, whether in the deep sea or in shallow water ? Shell colour is also related with its diet and to camouflage with the surroundings for natural protection from its predators. Surrounding includes, sea land, sea weeds and colonies of other marine animals in the vicinity. Indian sacred conch is mainly distributed in three geographical zones on the eastern coast of India. These are also known as eco-geographic zones.

Indian Conch Turbinella pyrum ( dextral and sinistral ) from Rameshwaram, bay of Bengal, and from its natural habitat near Sri Lanka show morphological difference.

There are many species under the genus Turbinella. Many of the earlier species which were described under Turbinella are now transferred to other conch genera other than Turbinella. Taxonomy of the genus Turbinella is not worked out completely due to its main natural habitat in the Indian ocean. The available documented research work on Turbinella was carried out is at least 100 to 200 years old and not easily available to compare new collections.

Thanking you and with regards,

Chandrashekhar Phadke
Poona, India.3

PGA NOTE: We look forward to receiving further information on the 5 types of Valampuri Turbinella Pyrum Shells named "Lakshmi Shank."
---
The Sanskrit name for the PGA was composed by HONORARY PATRON Prof. Dr. Satya Vrat Shastri, Padma Shri