http://p-g-a.org
---

Patrons & Members
---
PGA Codes of Ethics
---
PGA & PG Graduates
---
PGA Articles
---
PGA News
---
PGA Complaints
---
The 9 Gems
---
Planets & Gems
---
Jyotish Gem Powers
---
Gemstone Conflicts
---
The Planetary Herbs
---
Natural Jyotish Pearls
---
Jyotish Gem Clarity
---
Sidereal Astrology
---
Anukul/Pratikul
---
Mani & Mantra
---
The PGs Dictionary
---
PG Reference Material
---
Book Reviews
---
The PG Diploma
---
PGA Course Info Links
---
PGA Cyber Books
---
(C) 1999 by Planetary Gemologists Association
All rights reserved



123-C All Season Place, 87/208 Wireless Road, Lumpini, Bangkok-10330, Kingdom of Thailand 02-252-1230 • E-mail: sec@p-g-a.org
---
PGA HONORARY PATRONS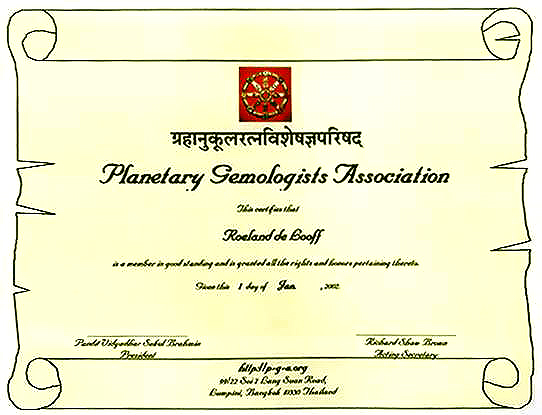 ---
---
Honorary Patrons
---

Late Great Prof. Dr. B.V. Raman, India. The PGA's senior most Honorary Patron (In memorial)
---
Late Prof. N.N. Saha, India. A great author & guru of Planetary Gemology (In memorial)
---

Late M. C. Bhandari, India. Founder: Mystic India Magazine, (In memorial)
---

Late Harish Johari, India. A great author & guru of Planetary Gemology (In memorial)
---
Late Raj Roop Tank, India. A great author & guru of Planetary Gemology (In memorial)

---

Late Prof. Dr. Mangal Raj Joshi, Ph. D., Jyotishacharya Ganit Shastri, PGA, ROYAL ASTROLOGER KINGDOM OF NEPAL, Chairman of National Panchanga Decision Committee of HM Government of Nepal since 1968, involved with Panchanga ( Nepalese Calendar ) publication since 1931; father was also Royal Astrologer of Nepal and together they published Nepalese panchanga-calendar; publisher MANGAL PANCHANG; Chairman of Astronomy and Astrology subject Committee of Mahendra Sanskrit University of Nepal, visiting Professor of Tribhuvan University of Nepal, ex. Principle of Patan College, Jotir-Nivas 226 Dhalayacha, Lalitpur-16, Kingdom of Nepal (In memorial)
---

Late Govinda Panicker P.N. An expert and long time Astrologer as well as old PGA Member. (In memorial)
---

late DharmaDev Arya, Rudra Center America, 20683 Tumeric Way, Jamul, California 91935 USA. (In memorial)
---

Prof. Dr. A. K. Bhattacharya, PGA, (Great guru of gem color therapy), India Shashtri-Villa, P.O. Naihati, Pin-743 165 W. Bengal, India email: dr_akbhattcharya@vsnl.net >>>see letter
---

Pandit Vidyadhar Sukul Brahman, PGA, Thailand (Thailand's chief brahmin priest & top Vedic astrologer). Maha Luksmee Santosi Bhawan 248 Soi Sarapee 2 Isarpap Soi 5 Bangkok 10600 Thailand (Honorary President)
---

Prof. Dr. Satya Vrat Shastri, Padma Shri Mahamahopadhyaya Vidyavachaspati, C-248 Defence Colony, New Delhi - 110024, India, Email: ssarin@del3.vsnl.net.in Tel: +91-11-4652565, 4620628
---

Gayatri Devi Vasudev, PGA (H.C.), Highly respected Editor of Modern Astrology Magazine (formally The Astrological Magazine of Dr. B.V. Raman), Agrany Publications, 56, ITI Layout IV East Main Road, Banshankari III Stage, Bangalore 560 085, India, Email: gayatridevivasudev@yahoo.co.in (Synthetics - NO, Uparatnas - YES, Flawed gems - NO)
---

Dr. Mahan Vir Tulli, Highly respected Editor of The Astro Vision Magazine, Mahan Astro Research Centre, B-17/G-3, Dilshad Garden, Delhi 110 095, India marc_tulli@yahoo.com <<<see letter
---

Chakrapani Ullal, Master JyotishAcharya, 12044 Kearsarge Street, Los Angeles, CA 90049, USA Tel: (310) 476-9942 Email: info@vedicastrology.com
---

H.E. Janak Bahadur Singh, Ambassador to Nepal, Embassy of Nepal, 189 Sukhumvit Road 71 Prakanong, Klongtan, Bangkok 10110 Tel. 391-7240, 382-1310 <<<see letter
---

H.E. Ranjit Gupta, Ambassador of India, RM. 2010, TWTC International Trade Building, No. 333, Keelung Road, Sec. 1, Taipei, Taiwan, Tel: 886-2-757-6112/3, Email: tfci@vsnl.com
---

Dr. Chirapat Prapandvidya, Head of Department of Oriental Languages, Faculty of Archaeology, Silpakorn University, Na Phra Larn Road, Bangkok 10200, Thailand, Tel. 222-6818, 510-3397
---

Prof. Sakda Siripant, Director: The Gem and Jewelry Institute of Thailand (GIT), The Gemmological Research and Testing Building, Faculty of Science, Chulalongkorn University, Phyathai Road, Pathumwan, Bangkok 10330, Thailand, Tel: 662-218-5471, E-mail: sakdagit@yahoo.com
---

Prof. S. Kr. Shastri, Center of Astrological Study & Research, 79 New Baradwari, P.O. - Sakchi, Jamshedpur - 831001, Bihar, India, Email: sanjit_jsr@satyam.net.in <<<see fax
---

Prof. Dr. Usha Satyavrat, Ph.D., C-248 Defence Colony, New Delhi - 110024, India, Tel: +91-11-4652565, 4620628, Email: ssarin@del3.vsnl.net.in
---

Nanda A. Arambewela, J.P., PG, Ruhunu Jyotisha Institute, No:-259, Wackwella Road , Galle , Sri Lanka. Tel: 09 32387
---

Jyotishi Pandit Dharma Raj Regmi, President: South Asia Jyotish Mahasangh Central Office Kathmandu, Nepal, Narayan-3, Dailekh, Bheri Zone, Nepal Tel. 977-1-4499847 (Kathmandu, Residence), Email: dailekh@wlink.com.np
---

DR. SHEKHAR VASHISHTHA, B.Sc.(Hons.), M.Sc.Applied Geology, B.R., S.S., P.G.D.J., Ph.D., C.C.F.S., F.G.S., G.G (U.S.A), F.G.A. (U.K.), P.G., SECRETARY GENERAL, MINERAL CLUB OF INDIA, 346, Ground Floor, RATNA GIRI, DDA MIG Flats, Metro Apartments, SANT RAVIDAS NAGER (Near Bhalswa Red Light), Main Outer Ring Road; New Delhi-110033, India. INDIA, Tel. 011-27632160, Mob: 9891640599, Web: , E-Mail: drshekharvashishtha@rediffmail.com / dr.shekharvashishtha@yahoo.com (Synthetics - NO, Uparatnas - YES, Flawed gems - NO)
---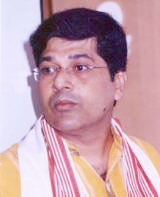 Pt. Sanjay Rath, Paramaguru, SJC w Sri Jagannath Centre w 15B Gangaram Hospital Road, New Delhi 110060 w +91 11 25717162 w http://srijagannath.org Academic Director, JIVA w Jagannath Institute of Vedic Astrology w P.O. Box 538, Aromas, CA 95004, USA w http://jiva.us Editor, The Jyotish Digest w http://thejyotishdigest.com w Chairman, SJCERC w SJC Education & Research Center Academic Director, JIVA w Slavic Institute of Vedic Astrology, Novi Sad, Serbia.
---

Kamal Narayan Seetha, Rudra Centre, Shop No 9, Emerald Complex, Near Imax Adlabs, Bhakti Park, Anik Wadala Link Road, Wadala (E) Mumbai-400037 Maharashtra, (INDIA), Tel: (0)-(91)-22-24046611, 24046655, E-mail: RudraCentre@hotmail.com
---

Ar. Beauty Chakraborty, Astrological College (Indian College of Astrology & Astronomy) President and President of West Bengal State Committee of Asian Astrologers' Congress (Dhaka), Nivedan Appartment- Flat-2A, 2nd Floor, 254, West Ghosh Para Road , Shyamnagar 743127, 24-Pargana (North), West Bengal , India, Tel : +91-03325865703 & Mobile No- +919830272528, E-mail : chakraborty.beauty@rediffmail.com
---
---

GEM: A natural pearl, coral, shell, seed, tooth or mineral that is valued for its rarity, durability, portability, beauty, perfection or astrological metaphysical influence.

GEMOLOGY: The study of naturally occurring gems.

PLANETARY GEMOLOGY: (Ratna-vijnana or Ratna-para-vidya) Ancient Vedic science of the relationship between 9 (categories of) GEMS and 9 (categories of ) PLANETS recognized as most important in sidereal astrology and ayurveda. Based on the "Navaratna" philosophy of Vedic birthstones.

PLANETARY GEMOLOGIST (PG): A practitioner who is BOTH a "certified" Gemologist as well as being a "Planetary Gem Advisor" (PGA) qualified to determine gem choosing based on Jyotish (Vedic Astrology).
---
STATEMENT OF PURPOSE:
The "Graha-anukul ratna-visheshajna parishad" or Planetary Gemologists Association (PGA), is a necessary regulatory and research group formed to help unite all genuine Planetary Gemologists around the world.
Purpose of the Planetary Gemologists Association is fourfold:
1) To bring order and positive worldwide attention to the ancient science of Planetary Gemology, one of the 64 Asian arts that incorporate Vedic (sidereal) astrology, Ayurveda, and elite mineralogy.
2) To establish high standards of professionalism and expertise as requirements for membership, which will serve as a guarantee of integrity and excellence to the public.
3) To maintain a forum for deliberation into the subtle mysteries of "Planetary Gemology," and to present these findings and conclusions by publishing an annual Journal named the "Journal of the Planetary Gemologists Association."
4) To evolve into an Internet based Institute of Planetary Gemology that provides bona fide information leading to a final exam for qualification as a PGA (Planetary Gem Advisor). NOTE: A PG (Planetary Gemologist) is a qualified PGA who is also a certified Gemologist. PG and PGA Diplomas will be awarded to successful applicants. Click the sample diploma if you are ready to take the PGA - TEST>>>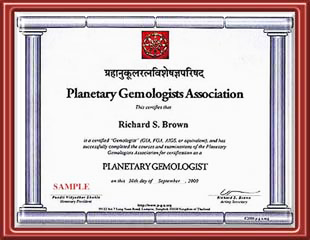 ---

---
The Sanskrit name for the PGA was composed by HONORARY PATRON Prof. Dr. Satya Vrat Shastri, Padma Shri