Pt. Brij Bihari Sharma Becomes PGA Honorary Patron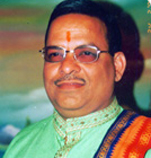 The PGA is honored to welcome outstanding Vedacharya and Jyotishacharya Pandit Brij Bihari Sharma, founder of Vedic Life Mission in Kanpur, U.P., India. Pandit B.B. Sharma has throughly studied Sanskrit and Vedas, Vastu Shastra and Vedic Jyotish from "Sampurnanand University" of Varanasi in India. He also holds degrees of Shastri Sahita Charya and M.A. in Vedic and Hindi and Philosophy.
Pandit B.B. Sharma has visited many countries such as U.K., Japan, Taiwan, Thailand, Hong Kong and many places and cities in India to perform Vedic Yagyas. Pandit Sharma has also written a book on Vastu Shastra (Indian Architecture) titled "Bhartiya Vastu Chandrika" and for the last 25 years he has been publishing annual Hindu calendar book named "Tithi Chandrika". In 2012 180,000 copies of Tithi Chandrika were printed and distributed in 45 centers of India and abroad. "Jyotish Rashiphal" a weekly horoscope by Pandit B.B. Sharma is published in the National Edition of "DainikJagran" a widely read daily newspaper in India. Vedic Life Mission has been working since 2000 and has performed over 15,000 Yagyas. The PGA is honored to have his support.
CONTACT
Pandit Brij Bihari Sharma, Jyotish and Vedacharya, Founder: VEDIC LIFE MISSION, Sri Thakurji Temple, 55/64 Kahoo Kothi, Kanpur, U.P. – 208001, India, Tel : +91-983-936-0800 / +91-945-021-0352, E-mail : info@jyotishyagya.in